We are currently looking for a Faithful Friar for our assembly. Hopefully we will have one for our next issue.

Faithful Navigator: Gene Carreiro. Temporary Phone # 905-741-0502


Dear Brother Sir Knights:

Here we go again, another year more opportunities to let our love shine to those in need.

Thankfully we haven't had any wakes to attend lately for our members that is great Please keep praying fur those of us who are sick and in distress. If you live in a sick member's neighbourhood why not drop by for a visit.

The recruiting theme for our Assembly these days is Clergy.

Please let me know if any member knows a priest who has their 3rd Degree and would like to take the position of Faithful Friar of our Assembly.

The District has been keeping close tabs on me and other Faithful Navigators in the 2nd Ontario District and has been in constant communication to find out how our efforts are going in finding new members.

I would appreciate it if all Sir Knights in our Assembly who know a priest with 3rd Degree status to ask him if he would seriously consider joining the 4th Degree.

We are in a unique situation as a Clergy Exemplification will be taking place here in Hamilton on Monday, January 30th 2006 4:30pm at the Cathedral of Christ the King.

Members with colour are expected to attend this event if we have a candidate or not.

May Christ continue to bless you all with GOOD HEALTH and much happiness and comfort in 2006.

Fraternally yours,

For Sale two Tuxedos and one red caoe one hat and box.

At this time we have two tuxedos for sale one size 42 pants 36

Tuxedo medium? Red Cape, medium size. Hat size 7 plus box plus a Blue suit. Please come to our next meeting our contact us to see them..

It is time to look for new members of the fourth degree.

Remember to look for new members for the 3rd degree, as they are future 4th degree members. Help your councils by helping the fourth degree recruit new members. I have often heard members say I can't recruit members I don't know anyone. Aaah but you do? If you are looking for members you will find them they are there waiting for you to ask them to join the Knights.

Note

1st & 2nd Degrees January 16th 6.30pm start time 7.pm sharp. Place Holy Cross Parish King St. E

Please inform George Robinson 905-575-5861
As to how many you have to come on this date by Jan 9th 2006 District Meeting, Feb. 11th 9.am. Holy Cross Parish, King St E. Grand Knights, Deputy Grand Knights, Recruitment officer.

Notice

Please note the new address of our new Controller.
FC. Danyl Lobin 905-662-3629 29 Ashwood court Stoney Creek On. I8E 3C9

Dues are due

Dues notice are in the mail for 2006 $40.00.gentlemen. $40.00, for all, Sir Knights per year 2006 90 paid. Honoree's and disabled $5.00 cost.

Please make all checks for dues out to "Bishop Ryan assembly 0868" or pay at the meetings.


Visitation of all sick members is requested
Faithful Pilot Dennis Pintaric 664-2718.

Please pray for the following sick members;

Ken Mullally James Mahar Home,
Dominic Chuck home,
SK Bernard J. Flanigan "stroke" Home, 905-385-1923
SK Huge Campbell,
SK Jerry Visocchi,
SK Vern Harrell,
SK Danny Oilman's wife Heather,
SK Amby fajardo's Wife Leticia,
SK Dominic Chuck,
SK Vince Misale,
SK Drago Povnenic.

Give these fellow members a call.
Please call me if you know of anyone that is ill or in need of our prayers.




LEADERSHIP GUIDE FOR MEMBERSHIP RECRUITMENT



Editors Report:

SK. George Robinson PFN PGK DB 905-575-5861

During the Christmas season I got so tired of people telling me it's not "Merry Christmas". It's Happy Holiday. My answer to that was if it was not for Christ's birth there would not be a holiday to celebrate and if Christmas stands for Christ and there will be a Mass then I will be there.

We all wear or most of us wear our faith around our necks in the form of a cross that Christ died on for us all we should wear it on the outside not the inside.

My hope is that you all enjoyed your children and grandchildren with your families on this birthday of Christ birth. May your New Year bring you many pleasant blessings and the love of God be with you always.





Commanders Report SK John Walker 905-385-9839

Thank you for are your co-operation and help. "Happy New Year" to you all

Past outing's

Nov 18---------Wake Brother Ereco Perone St Anthony's 09 SK's
Nov------------Wake Brother Tim McClaren St Pat's 02 SK's

Up Coming events

Feb.25--------Bishop's Dinner Dance, Chandelier place. $50.00 per person

June 11-------Deacons Mass SK Gerry Guinto (Ordination June 10th at Cathedral)

2006 marks the 40th Anniversary of St. Margaret Mary Parish. The actual date of the celebration will be the weekend of October 14th/15th, 2006 when Bishop Bergie will be present for all Masses.

You are invited to become involved with the planning of this event by attending a general meeting on Thursday, February 9th, 7:30 pm. Plans include a new photo directory. Further updates to follow.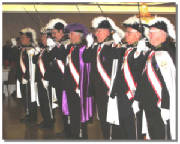 Bishop Ryan Assembly Colour Guard s Reminder:

In this issue you will find a copy of our colour corps names and phone numbers. We will be calling all members on this list shortly to update the list. Also to check phone numbers as you have a habit of changing numbers and not passing them on.

If you have not changed your cape to the stand up color then you should not be on the list as you may not go out with the lay down color anymore, or weather or not you have all of your colour equipment, also as to weather or not you are able to go out.

Please check the list for your name and correct phone number and let your co-commander know of any changes. his name and number is on top of your name list.



 


Elected Officers For 2006 Fraternal Year

 


Faithful Friar
Faithful Admiral
Faithful Captain
Faithful Purser
Faithful Pilot
Faithful Trustee # l
Faithful Trustee # 2
Faithful Trustee # 3
Faithful Navigator
Faithful Comptroller
Faithful Scribe
Faithful Outer Sentinel
Faithful Inner Sentinel



Fr.
Vrnce Vostrez
Edouard Bourdon
Alfredo Gatto
Dennis Pintaric
Giuseppe Vitucci
Albert Dugay
Stanko Rezo
Gene Carreiro
Danyl Lobin
Fred Pawluk
Frank McAdam, John Walker, Nicolo Mendola
Ilio Sodo, David BalIk, George Downey