TORUGPO HA CAMANSI



Black Saturday. Yesterday Christ died to rise again tomorrow. But today Christ is dead.

On this day of sorrow, Carigara annually stages a real bullfight, for the contestants are not men versus bulls, but bulls versus other bulls. The venue is a table land in Barangay Camansi. A carabao is pitted against another carabao which lock horns and push against each other until one gives way and run, with the winner in pursuit.

The contest of strenght between carabaos is called torugpo, from the root word togpo, which means matchmaking in waray. Matchmaking is commonly associated with promoting a relationship between lovers, but it could also mean matching opponents. Which is what Kalgaranons do in Black Saturday - promoting a fight not between men but between carabaos.

Originally held on Good Friday, torugpo had its origin in the Spanish era, some 200 years ago. It was Kalgaranons defiant answer to the Friars dectum that Good Friday be observed in piety and solemnity, if possible, in absolute silence. Folklore has it that Torugpo initiated by the rebilious Bankaw, but historical records do not support this view.

In 1983, the late Bishop Cipriano Urgel of Palo requested that torugpo be staged on a day other than Good Friday in or der not to distract yhe parishioners in their pious observation of Christ's suffering and death on the cross. The organizers readily acceded to this request, since the reason for the defiance, the Spanish Friars, were no longer present. Since then torug-po has been held regularly on Black Saturday.

But there has been changes in the practice over the years. The carabao fights are now interspaced with a fight of two male horses which is more viulent as they kick and bite each other. What is interesting is that a mare has to be present in order that the male horses will fight. The finale for the days sports fest is a cockfight "carambola" wher 10 or more cocks are let loose simultaneously in a makeshift arena. The winner of course is the cock left standing at the end of the melee.

Torugpo has become a popular spectator sport witnessed by a crowd that gets bigger every year. The Department of Tourism in Tacloban has taken notice and is billing the event as a tourest attraction during the Lenten season.

(From Carigara: six hundred years of history in a town in Leyte.)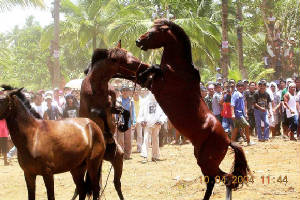 (Paaway} Figure this one out, the stallions only fight when a mare is around and look at how she takes up her positions, makes you wonder eh...
CLICK
Paaway
TO VIEW VIDEO
.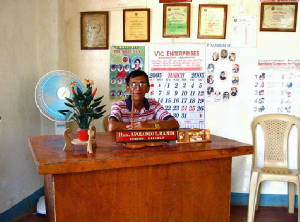 When I came home to Carigara last time, Onyong was and had been the Punong Barangay of Camansi as far as I can remember. This picture I took of him when I went with the Medical and Dental mission there.


CLICK ON PHOTO TO VIEW A MUCH LARGER VERSION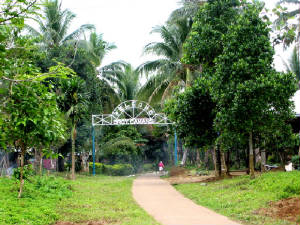 The welcome gateway arch to Camansi's town proper.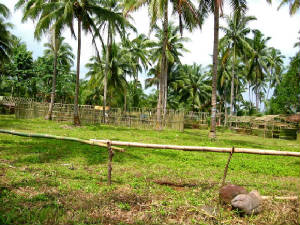 The makeshift cockpit (on left) is finished and the corporate huts are almost done. They just need roofs to stave away the heat.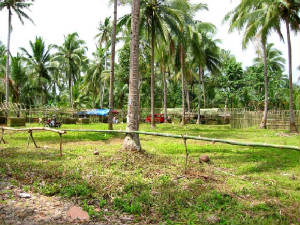 More corporate huts under construction for dignitaries and other guests to grace the now well attended festivities as promoted by the Dept. of Tourism.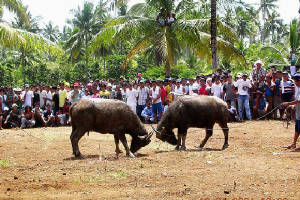 (Pasungay) The contest of strength between carabaos is called torugpo and had its origin in the Spanish era, some 200 years ago here in Carigara.
CLICK
Pasungay
TO VIEW VIDEO.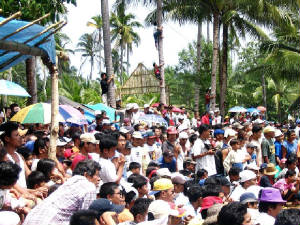 How popular is this event, just look at the riveted attention of the spectators as they follow the action in the arena. Click on the picture and see if you recognize anyone.

Photo's complement from
Atty. Remy Lauron.