An open letter from Consul-General JUNEVER MAHILUM-WEST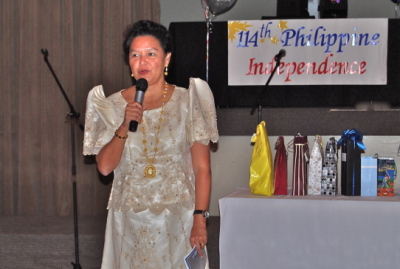 From: junever mahilum-west [mailto:junever1@me.com]
Sent: June 13, 2012 2:18 PM
To: hfcc@cogeco.net
Cc: consularmatters@philcongen-toronto.com; jwhiteberry@yahoo.com
Subject: Thank-you letter

Dear Bonner and Dodong (Cabilan),
I felt glad and proud when I and my colleagues in the Consulate General shared in the festivity of your Independence Day Ball and met the members of the Filipino community in Hamilton. Your efficiency -- I fully agree with your arrangement of having all of Filcom join in one big Independence Day commomeration -- discipline and patriotic fervor are an inspiration to us all.
I look forward to productive and meaningful working relations with your group. Rest assured that the door of your Consulate-General in Toronto is open to all our kababayans for whatever consular needs they may have.
I would have loved to respond immediately that, yes, I could join the golf game but the Department of Foreign Affairs in Manila has asked all Heads of Posts in Canada and the U.S. to be in Manila for consulations at that week. So I have to send my regrets at this time but I am looking forward to future opportunities when I could enjoy with you the beautiful greens of Canada, and thusly inspired, would at last be blessed with an improvement in my game.

With my best personal regards to you and your family, Mr. and Mrs. Cabilan, the HFCC and its 10 supporting organizations, and to all our kababayans and Filcom friends in Hamilton.
Very truly yours,

(Sgd.)
JUNEVER MAHILUM-WEST
Consul-General
Consulate General of the Philippines
Toronto

Posted by FEL at 12:59 PM EDT
Updated: Friday, July 27, 2012 4:05 PM EDT