WEBSITE OVERVIEW
I am creating this site to establish communication among our league members and to keep everyone up-to-date with the latest happenings and upcoming events in our community . By including such things as Halloween, Christmas, and New Years dance announcements, congratulatory news to worthy community members up to and including sports events, I hope the site will encourage increased awareness of our existence and improve future membership.
Make sure to check out the "Coaches Corner" page for helpful tips and instructions. And please sign the guest book if you have any comments or suggestions.
FOR 2003 BOWLING BANQUET DETAILS
COMMUNITY EVENTS
You just have to checkout the community EVENTS page for announcements about our local happenings and fund raising venues. The events themselves may not attract you but how I made them may intrigue you.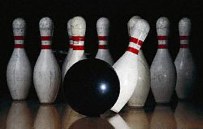 The league BOWLS every Sunday evening at
5:45 PM.
Join us and have fun at the...
Hamilton Mountain Bowl
1525 Stone Church Rd. E.
Hamilton, Ontario
Canada L8W 3L3
President and Webmaster

BOWLING LINKS
Make sure you visit the links site, bowling around the
world, it will get you everywhere you want to go. The Philippine site has Paeng Nepomuceno's and Bong Coo's hompages. All other bowling sites can be accessed here easily. Happy surfing everyone...
COACH'S CORNER
Make sure you visit the coaches corner for some helpful hints on how to improve your bowling skills while enjoying the game. Suggestions from league members are welcome. If you know of any resource we can tap in to update the help tips, just e-mail them and I will publish it for you..
CHAMPIONS PHOTO GALLERY
This photo gallery is finally taking shape as old photos are found and new ones submitted. Again I reiterate, if your team was a former champion and you want them published, just keep in touch with me at bowling. We still are using the same schedule.
You are welcome to visit my Carigara website. Just click on logo below. The Philippine connections and others are on this site under Favorite Links.

For a copy of the Philippine National Anthem in 3 languages and in Bicolano, Cebuano, Hiligaynon, Kapampangan, Ilocano, Tausog and recently added WARAY dialect click on logo below.
"Great minds discuss Bowling then Golf;
Average minds discuss events;
Small minds discuss people."
"WELCOME TO MY OTHER WEBSITE"
The Hamilton Filipino Community Centre

The NEW City of HAMILTON

Click on Collage above and visit Hamilton, our City. Everything and anything you want to know about yourself and Hamilton like MAPS, Community Events, Emergency Services, Road and Traffic conditions, Holiday Closures, Restaurant Food Safety, Library Hours, Transit, Etc...,Etc...and yes even TAXES and Assessments are accessible here.
LATEST IN NEWS AND SPORTS
When we go to the Dentist's office, bank institution or for that matter any establishment where we have to wait a while, we are exposed to a bunch of mostly old magazines and periodicals. On this page I have consolidated a group of reading materials that I like to read, and they are always up to date . For the latest local news, world news and or sports events get them all here, Click NEWS N SPORTS then add to your favourite or bookmark this page and visit often.