The St. John Bosco Chorale came to Canada on October 17 from the Philippines through the invitation of the Annunciation of our Lord Parish priest Father Gary Schlack. The St. John Bosco Chorale was formed in Makati, Philippines in November 2000. The group, through the leadership of its conductor, Lester Delgado, performed internationally on concert tours; Hong Kong in 2004 and 2005 as well as in Europe (Germany, Belgium and Austria) last May to June 2007. Their repertoire consists of classical to sacred songs, international songs, Filipino locale songs and traditional, kundiman and/or folk songs from the different part of the country.

The group of nineteen performers has brought happiness to the different parishes in Mississauga, Hamilton and Brantford during their one month visit in Hamilton. Their theme "Go the Distance" aimed to help churches fundraising to get the youth back to their parishes and show-case the Filipino talents. That night was an extraordinary performance for this group since the Hamilton Filipino Community Centre actually fundraised to help offset their travel cost. The HFCC fundraising net revenue was $1000.00 and was donated to the group. One of the HFCC's Affiliated Association, the Filipino Association of Burlington donated $150.00 presented by its President, Josie Tejada. Miss Philippines Hamilton 2008, Pavielyne Carandang was also present. It was a stunning emotion from the crowd to hear wonderful voices.

Once again great participation by the Hamiltonians, the sponsors, donors and the fundraising committee, Ruby was very thankful to all. For the other part of Greater Toronto Area, should you wish to hear the St. John Bosco Chorale, Ruby can be reached at 905-575-5628.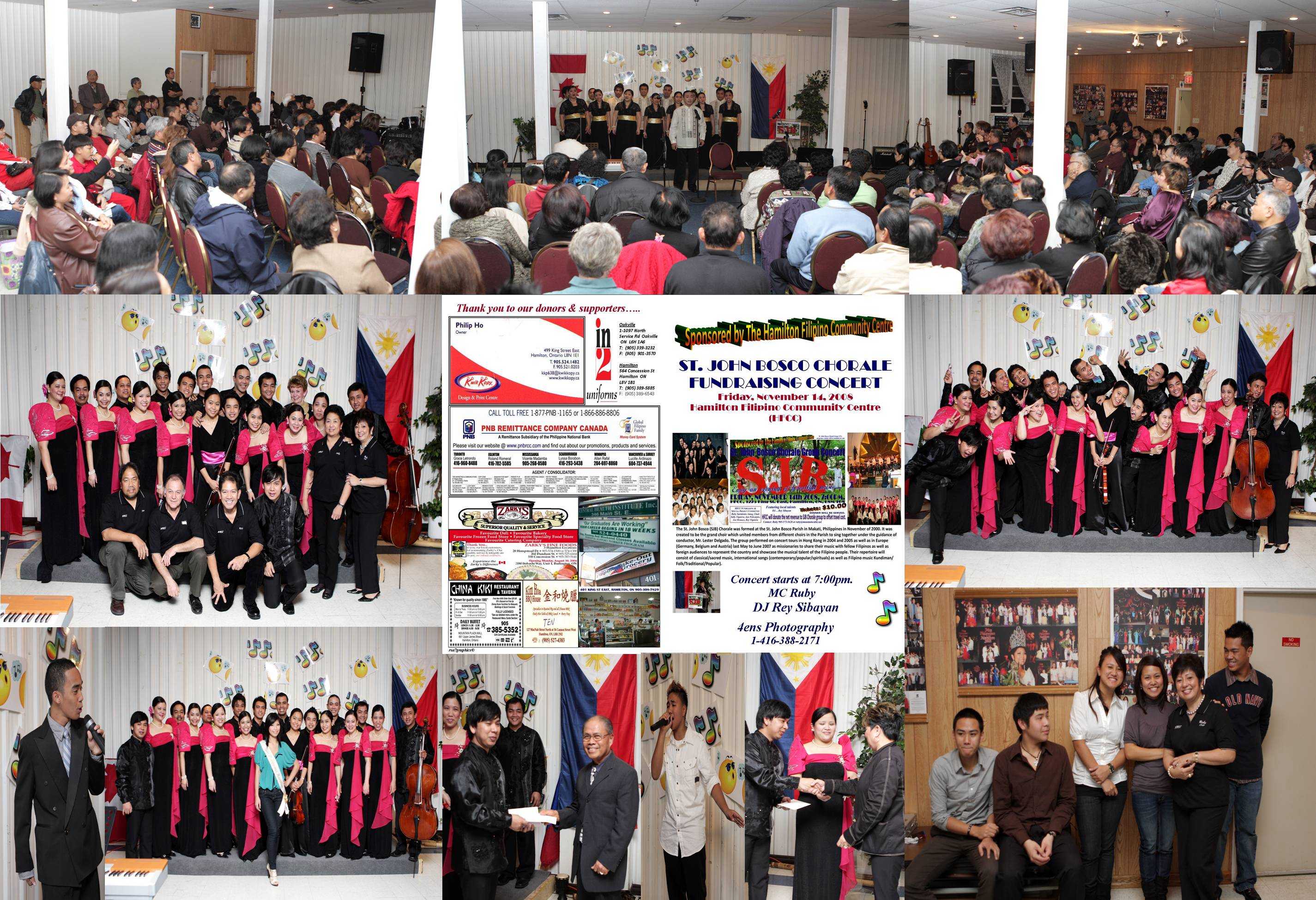 Captions:
001 - The St. John Bosco Chorale of Manila, Philippines sings for the Hamilton Filipino Community

002 - The St. John Bosco Chorale (L-R: 1st row - Conductor Lester Delgado, Anna Balatbat, Mae Lagman, Karen dela Luna-Ogbac, Soprano Alvin Selfa, Violinist Rechelle Alcances, Lesley Faye Verayo, Ada Balatbat, Maribeth Florea, Cellist Herrick Ortiz; 2nd row - Jess Taburnal, Rico Ogbac, Dax Arellano, Kelvine Maglaya, Louie Pena, Graenald Enero, Kenneth Laurente, Vince Olandesca, RJ Baris) with the HFCC Fundraising Committee (L-R: Jun Policarpio, Joe Monaco, Rey Viquiera, Sally Viquiera & Ruby Sarmiento Amog)

003 - The St.John Bosco Chorale after the concert at the HFCC, with Ms. Ruby Sarmiento Amog, Chair, HFCC Fundraising Committee

004 - RJ Lingao Lingao, local talent singer, 3rd place winner of the recent Novo Ecijano's Golden Singing Contest

005 - The St.John Bosco Chorale after the concert, with Miss Philippines Hamilton 2008 Pavielyne Carandang

006 – SJB Conductor Lester Delgado receiving the cheque for $1000.00 (HFCC fundraising net revenue) presented by Dr. F. Cabilan, HFCC Chairman of Board

007 - Diane Vidallon, local talent singer, grand prize winner of the recent Novo Ecijano's Golden Singing Contest

008 - Filipino Association of Burlington donated $150.00 presented by its President, Josie Tejada to SJB Conductor Lester Delgado

009 - Ignited Youth Ministry Band (JIA Community Church), local performer