TAGALOG

Bayang magiliw
Perlas ng Silanganan,
Alab ng puso
Sa dibdib mo'y buhay.

Lupang hinirang
Duyan ka ng magiting
Sa manlulupig
Di ka pasisiil.

Sa dagat at bundok
Sa simoy at sa langit mong bughaw,
May dilag ang tula
At awit sa paglayang minamahal.

Ang kislap ng watawat mo'y
Tagumpay na nangniningning;
Ang bituin at araw niya
Kailan pa ma'y di magdidilim.

Lupa ng araw, ng luwalhati't pagsinta,
Buhay ay langit sa piling mo,
Aming ligaya na pag may mang-aapi
Ang mamatay nang dahil sa iyo.





ENGLISH

Land of the morning
Child of the sun returning
With fervour burning
Thee do our souls adore.

Land dear and holy
Cradle of noble heroes
Ne'er shall invaders
Trample thy sacred shore.

O'er within thy skies and through thy clouds
And o'er thy hills and seas,
Do we behold the radiance
feel the throb of glorious liberty.

Thy banner dear to all our hearts,
thy sun and stars alight.
Never shall its shining rays
Be dimmed by tyrants' might.

O beautiful land of love, O land of life,
In thine embrace 'tis rapture to lie.
But it is glory ever when thou art wronged
For us, thy sons, to suffer and die.




SPANISH

Tierra adorada,
Hija del Sol de Oriente,
Su fuego ardiente
En ti latiendo está.

Tierra de Amores,
Del heroísmo cuna,
Los invasores
No te holláran jamás.

En tu azul cielo, en tus auras,
En tus montes y en tu mar
Esplende y late el poema
De tu amada libertad.

Tu pabellón, que en las lides
La Victoria iluminó,
No verá nunca apagados
Sus estrellas y su sol.

Tierra de dichas, de sol y amores,
En tu regazo dulce es vivir,
Es una gloria para tus hijos,
Cuando te ofenden, por ti morir.


BIKOLANO

Dagang namo-motan
Aki ka nin sirangan
Tingraw niyang malaad
Nasa si-mong daghan.

Rona kang mawili
Nagimatan bayani
An mansalakay
Dai ka babatayan.

Sa si-mong langit, bukid
Hayop kadagatan siring man
Nagkukutab nagbabanaag
An si-mong katalingkasan.

Simong bandera na nagkikintab
Sa hokbo naglayaw
Dai nanggad mapapara
An simong bitoon Aldaw.

Dagang nawilihan, maogma, maliwanag,
Sa limpoy mo hamis mabuhay
Minamarhay mi kun ika pagbasangan
An buhay mi si-mo idusay.


HILIGAYNON

Dutang ginsimba,
Anak nga sidlanganon,
Ang iya singkal
Sa imo nagadabdab.

Duta sang gugma,
Duyan sang baganihan,
Sa manggugubat
'Di gid magpalapak.

Sa langit mong bughaw, kahanginan,
Bukid, kadagatan,
May idlak kag tibok ang dilambong
Hinigugmang kahilwayan.

Sa imo patag-awayan
Gasilak ang kadalag-an,
Dili gid mag-ugdaw kasili sang
Bituon mo kag adlaw.

Dutang nasambit sang adlaw kag gugma,
Sa sabak mo matam-is mabuhi;
Himaya sang imo mga anak
Paglinupig ka handa mapatay.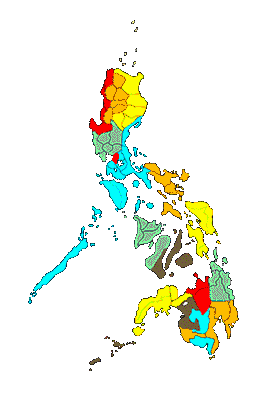 CEBUANO

Yutang tabunon
Mutya nga masilakon
Putling bahandi
Amo kang gimahal

Mithing gisimba
Yuta s'mga bayani
Sa manglulupig
Among panalipdan

Ang mga bungtod mo ug lapyahan
Ang langit mong bughaw
Nagahulad sa awit, lamdag sa
Kaliwat tang gawas

Silaw sa adlaw ug bitoon
Sa nasudnong bandila
Nagatimaan nga buhion ta
Hugpong nga di maluba

Yutang maanyag, duyan ka sa pagmahal
Landong sa langit ang dughaan mo;
Pakatam-isom sa anak mong nagtukaw
Kon mamatay man sa ngalan mo.


ILOCANO

O Pilipinas, tampok ti kinapintas
Ti addaan puso, ay-ayatendaka
Bagnos ken baggak, perlas ti dumaya
Dimi ipalubos nga irurumendaka

Iti tangatang, ulep ken pul-oy
Bambantay ken baybay
Mangmangngeg ken mariknami't
Samiweng ni waya-waya

Ipatpategmi ti wagaywaymo
Tanda ti ballaigi

Bitbituen, Initmo, Ingget raniag
Dinto pulos nga aglidem

Daga ni gasat, ragsak
Nam-ay ken Ayat
Ta sidongmo, dayawmi ti agbiag

Ngem nadaydayawkam
A sikakanatad
Gapu kenka, iruknoymi toy biag.


KAPAMPANGAN

Isla ning abac
Perlas na ning aslagan
Lugud mi queca
Daya mi cacawal!

Balen ming tibuan
Pugad da ring bayani
E re alusub
Ing nuan mung lugal!

Queng asul mung banua, dagat, bunduc
Tutyup ing taguimpan!
Acaquit ming saslag queng biga
Ing gloria ning calayahan!

Deng batwin at aldo
Ning quecang bandera atmo sala!
Tanda no ning diwa
At tagumpe, at deti e la matda!

Malagung labuad a quecaming palsintan
Queng candungan mu caligayan!
'Nia patia sinupil daca o piglocu
Subu m'ing bie mi qng uli mu!


TAUSUG

Hula sin bangsa,
Filipinas pagnganan
Kalasahan ta,
Mucha ha Subangan

Maharga katu in mga kamaasan
Yasag in dugu ba't hula b'yaugbugan

Dain ha uttara sampay pa saitan
Dain ha bud pa dagat
Kamahardikaan kakitaan
Baugbugan da sin raayat

Bituun-suga ha panji n'ya
In sinag pangdaugan
Bang man di' maka' in sahaya n'ya
Sampay pa kasaumulan

Malingkat ing hula ta iban limaya
Marayaw tuud paghulaan
Tantu, bang gubatun sin dugaing bangsa
Pa kamatay, subay baugbugan!