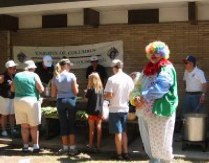 At the St. Margaret Mary Parish picnic held last August 18th 2002 at Gage park here in Hamilton. The corn was delicious and the company was great. Wish you were here. See you next year at the same place. The
"CLOWN"
was there....
The pictorial displays here are captured moments; excerpts from events participated in or organized by the knights of Columbus. The events featured here go back to the August parish picnic and the more recent annual Christmas carol social held in the Hearth Room December 3. 2002.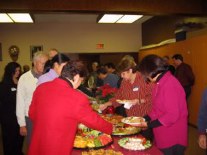 The Knights of Council 9553 and their guests partaking in the well laid out buffet in the Hearth room. With the music interludes supplied by the Sorrento's a good fun was had by all.
Since this website is just starting only these few events are featured here, in the future we will strive to accommodate more events as they unfold. "Merry Christmas and a Happy New Year Everyone"
The picture below is a reflection of the success of the world youth day celebration in Toronto. The elements did not cooperate on most days of the event but the spirits were never dampened.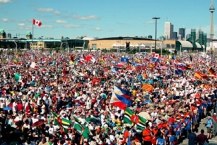 Another duty of the knights is the honour and privilege of wearing on our swords and our lapels the sacred symbol of the Most Blessed Trinity during masses celebrated by our Bishops. In the case below it's the Right to Life mass held at the Cathedral of Christ the King at Main St. West Hamilton.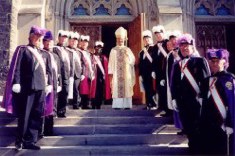 The 4th degree Members of the Bishop Ryan and Fr. Sean O'Sullivan assemblies pose in front of the church of The Cathedral of Christ The King after the mass dedicated to the Rights to Life movement.
More pictures will grace this page in recognition of past and recent knights deeds as they are finally put to proper perspective.