Please pass on to other Kalgaran-ons
Topic: A SPECIAL REPORT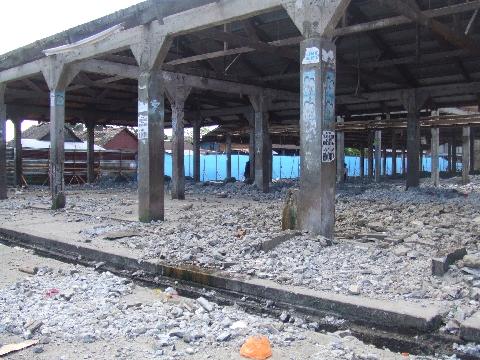 In just one and a half days, with the combined use of military and police force, ala martial law, the buildings at the public market were demolished despite vehement objection of the market occupants and concerned citizens. Mayor Anlie Apostol, with the assistance of her Congresswoman mother, is bent on replacing all the buildings at the public market to be financed by still unreleased P46.5 Million loan from the Landbank.
Carigaranos would not object if this amount were to be used to construct additional market stalls in vacant spaces at the market site rather than replace existing buildings constructed during the last fifty years which are still in good and tenantable conditions.
The motive is clear - to erase all previous landmarks and claim the "to be" constructed market as their own accomplishment - but Carigaranos to pay the loan.
We are appealing to all Carigaranos, wherever they are, to unite and prevent/stop this self-centered, wicked and malicious plan of the Apostols.
(Please pass on to other Kalgaran-ons)
View Slideshow
..then post your comment below, we would like to share your opinion to everyone..
"SLIDESHOW IS NOW UPDATED AND WORKING"

Posted by FEL at 1:53 AM EDT
Updated: 4 September 2007 12:33 PM EDT